Tag Archives:
puppet show
LilySilly Presents: Puppet Breakfast @ Lot 10 Bar and Lounge, Ithaca NY
This week we had the pleasure of performing in a lovely one-room schoolhouse – the Trumansburg Montessori School.  We had so much fun with our "Yes Around the World" show! And everyone got to pet a puppet. Thanks TMS! We hope to see you again soon.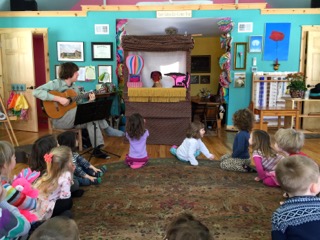 Lily Silly will be performing our "Yes Around the World" Puppet show at the Community School of Music and Arts for ArtsBreak on Wednesday, April 1st. We'll also be having a puppet-making workshop after the show! To join us, sign up for Wednesday ArtsBreak at CSMA.
More Info from CSM
A:
Music, dance, visual arts and theatre activities with demos and performances. Each day will have its own theme. Register for any number of days. Programs from 9:00 am to 3:00 pm with optional after care until 5:15 pm.
For ages 6-9.
Members: $45 Non-members: $60
Prices are per day. Aftercare cost: Members: $5 Non-Members: $7
PLEASE CALL THE OFFICE TO REGISTER FOR ARTSBREAK SO WE KNOW WHICH DAY OR DAYS YOU WOULD LIKE TO SIGN UP FOR! 607.272.1474